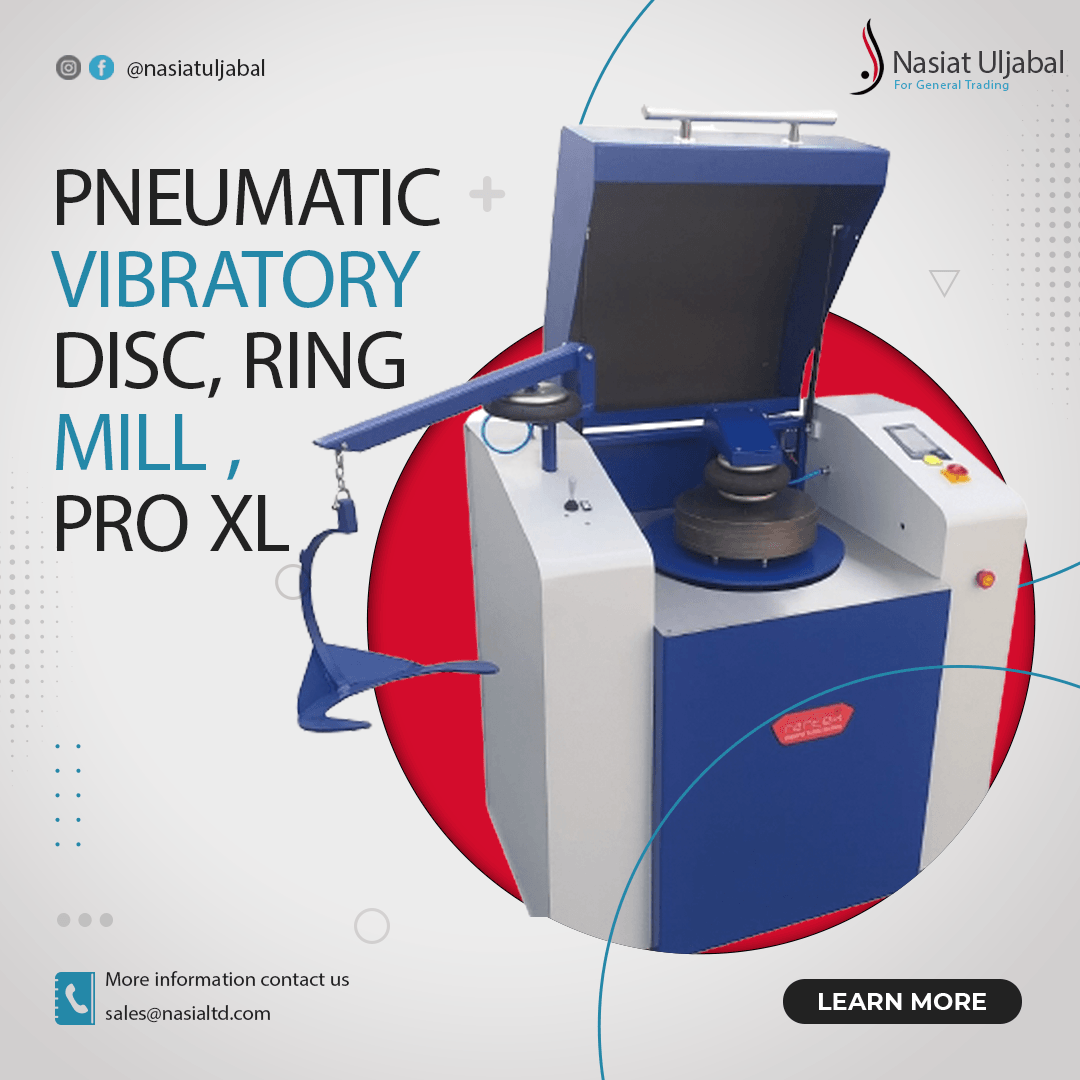 PNEUMATIC VIBRATORY DISC, RING MILL PRO XL
5" TFT TOUCH SCREEN CONTROLLED
SPECIAL SOUND ISOLATION AND SAFETY CABIN SYSTEM
It can grind fragile materials and
minarets such as basalt, bauxite, concrete, chromium, vanadium, dolomite, ferro-manganese, ferro-vanadium, granite, glass, coal, quartz, silicates, limestone, clinker, etc. in a very short time (in seconds) of 45 microns and below.
It has a special double roller bearing camshaft weighted vibration motor.
With the time relay, which can be programmed between 0-1 hours, the machine stops automatically at the end of the set time.
The front covers of the device must be equipped with a safety switch for the user.
There must be an emergency stop button on the device that the user can easily access.
Thanks to the digital motor speed adjustment, the operating frequency can be adjusted according to the sample.
It has a special design cover system and a sound and security system.
The inner surfaces of the device are specially produced sound insulation coating.
With special vibration-absorbing shock absorbers and an internal grinding base mounted on vibration wedges, the machine operates extremely quietly from the outside.
It is equipped with a sealed ring sealed cover (against dust) consisting of 1 ring and 1 disc capable of grinding 100 cc of sample at a time, with a grinding set made of heat-treated wear-resistant high-strength steel.
Fritsch Pulverisette Type 9 is similar, maintenance-free and extremely strong and robb, easy to use and practical design.
Air compressor for pneumatic compression must be ordered separately.
Power supply : 220V 1ph 50Hz
Weight : 325 kg
RAM92 PNEUMATIC GRINDING CHAMBER TRANSPORT SYSTEM is available for capacities of 800 cc and above and must be ordered separately.
2023-01-16 02:45 PM 360