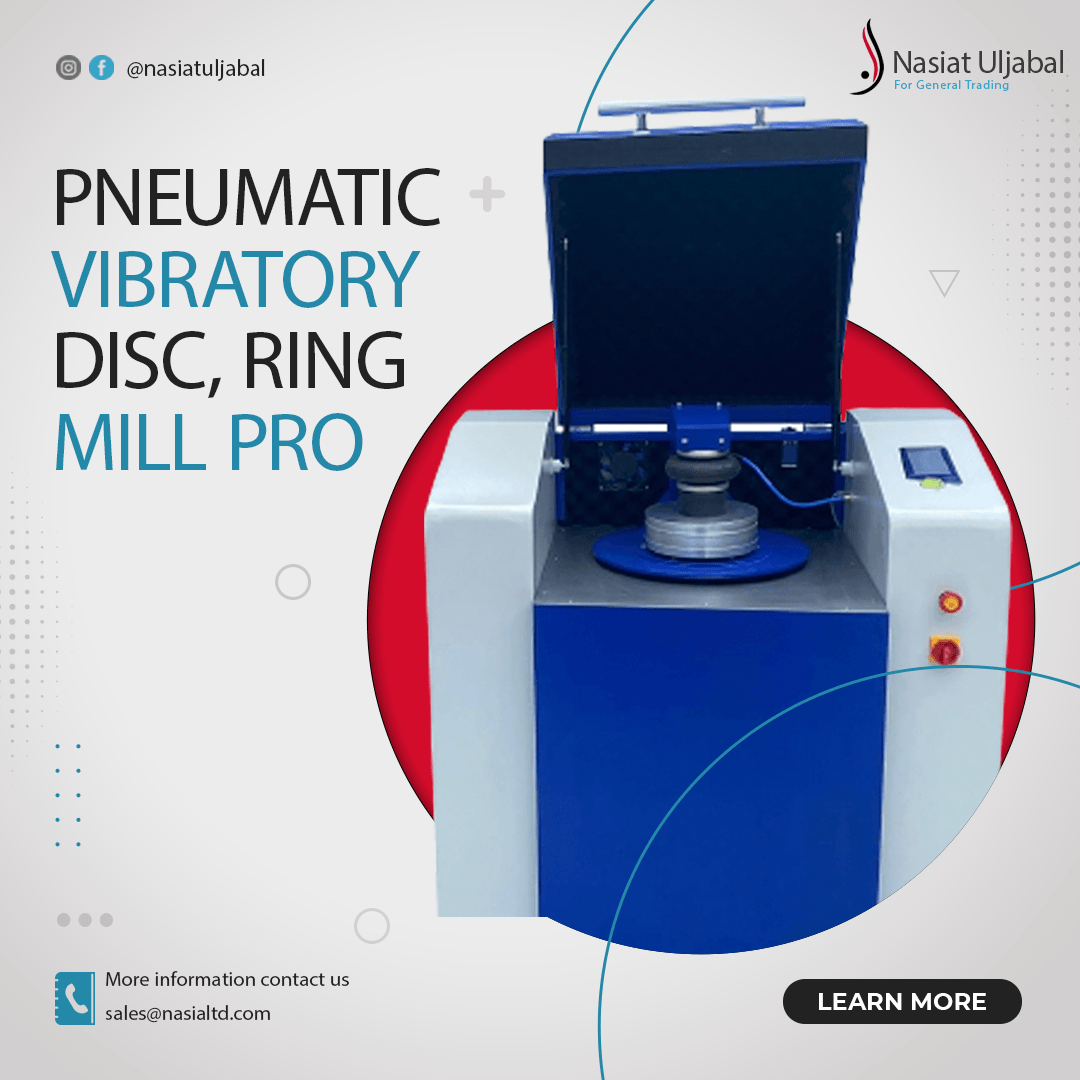 PNEUMATIC VIBRATORY DISC, RING MILL PRO
PNEUMATIC GRINDING CHAMBER WITH COMPRESSION SYSTEM
5" TFT TOUCH SCREEN CONTROLLED
SPECIAL SOUND INSULATION AND SAFETY CABIN
The Pneumatic Ring Grinder brings soft, hard, medium-hard materials to analytical working dimensions quickly and without loss.
With its robust design, its use is especially common in cement, geology, mining, metallurgy sector and power plants.
Thanks to its grinding and speed down to very small dimensions, it gives excellent results in sample preparation for spectral analysis.
RAM85 works with a friction effect. The grinding set is placed on the plate of the device and subjected to circular horizontal vibration.
Excessive pressure and impact ensure fine grinding in 1 - 3 minutes. The frictional force acting on the sample performs the operation with the centrifugal force acting on the grinding rings.
The circular vibrations are controlled by the frequency generated by the 1.5 kW motor.
The cover of the noise-insulated grinding chamber has a safety lock, and the cover opens only when the mill is standing.
APPLICATION EXAMPLES
coal, ceramics, cement, cement clinker
PRODUCT ADVANTAGES
Adjustable speed from 700 to 1500 rpm Grinding
in a very short time
Agat and tungsten carbide recognition for automatic speed
reduction 10 programs can be memorized.
Thanks to the O-ring gasket, sample loss does not
occur Alternative material
for grinding against contamination Noise-insulated grinding chamber
New fast-acting grinding kit compression device
for convenient and safe tightening Safe locking
Easy one-touch operation
with color graphic display The new ergonomic design means that heavy grinding sets can be placed closer to the user`s body and shifted to the machine, leading to less strenuous lab work, especially for high-throughput users.
Technical Specifications
Applications : Crushing, mixing, pulverizing
Application area : building materials, environmental reconstruction, ...
Feeding material : medium hard, hard, brittle, fibrous
Size reduction principle: pressure, friction
Material inlet size < 15 mm
Output size < 40 μm
Batch size / feed amount : 15-250 ml
depending on the size of the grinding set Speed, at 50 Hz (60 Hz) : 700 - 1,500 min-1, adjustable
Material of grinder elements : hardened steel, tungsten carbide, stainless steel, ..
Grinder hopper dimensions : 50 ml / 100 ml / 250 ml
Grinding time adjustment : digital, 00:01 to 99:59
Drive : 3 phase induction motor
with frequency converter Motor power : 1.5 kW
Electrical data : different voltages
Protection code : IP 40
W x H x D closed : 850 x 1250 x 800 mm
Net weight ~ 285 kg (excluding grinder set)
Air compressor for pneumatic compression must be ordered separately.
2023-01-16 02:47 PM 363