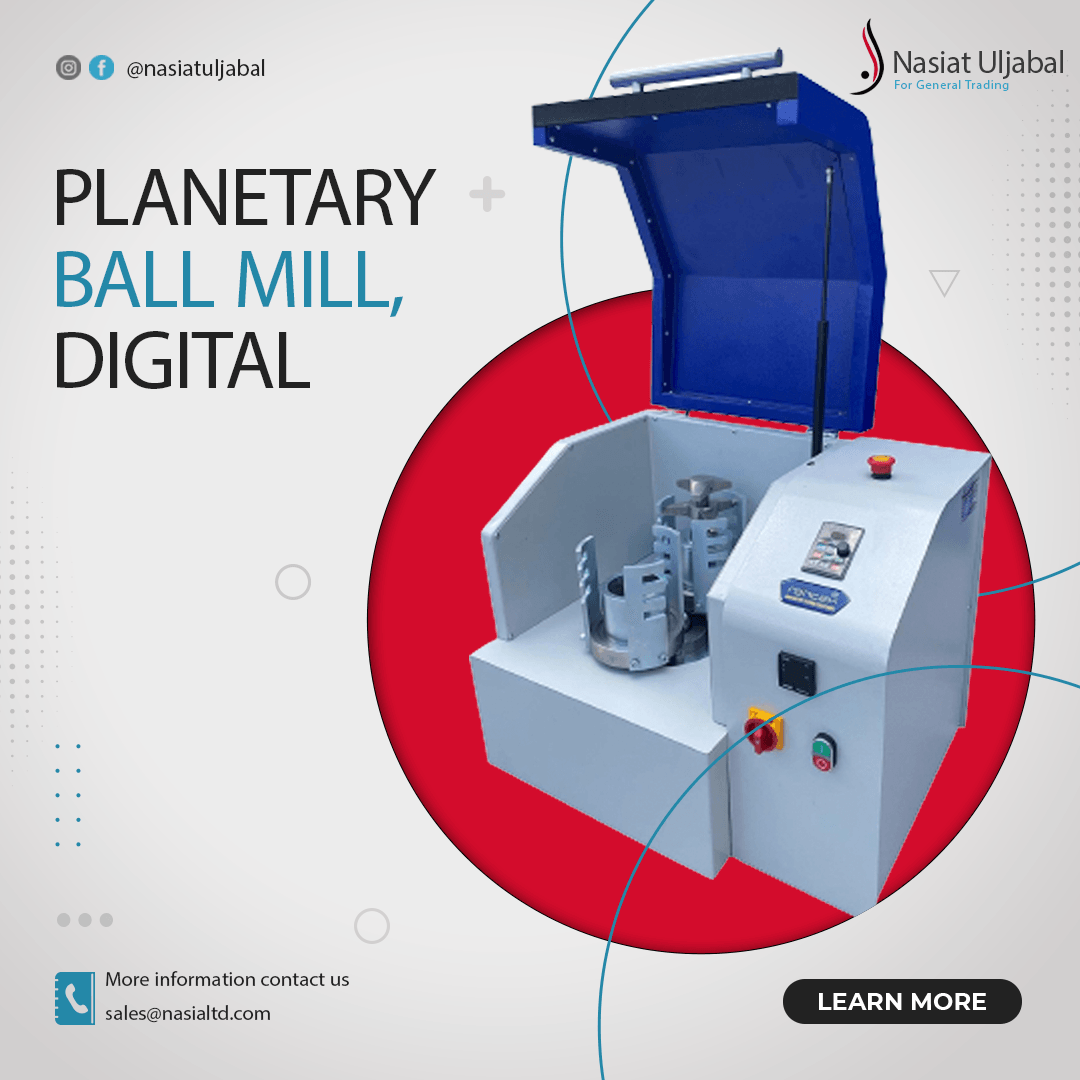 PLANETARY BALL GRINDER, DIGITAL
" DUAL UNIT / DIGITAL LED SCREEN "
The planetary moving ball grinder is a device that can reduce samples to the smallest size.
It differs from the classical grinding and shrinking processes. It is especially suitable for grinding samples of colloidal structure and for work with mechanical alloy content.
This device produces high energy and allows samples to be ground in a short time.
Areas of Use
Alloys, Bentonite, Concrete, Catalyst, Bone, Clay minerals, Chemical products, Coke, Coal, Coal, Organic fertilizer, Cellulose, Ceramic, semi-precious ts, Wood, Gypsum, Waste samples, Paints and varnishes, Glass, Ore, Slag, Iron ore, Texture, Electronic scrap, Hydroxyapatite, Kalker, Kaolin, Carbon fibers, Quartz, Paper, Sewage filth, Fibers, Metal oxides, Minerals, Pigments, Planning materials, Polymer, Hair, Seed, Soils, Tobacco, Cement clinker..
Product Advantages
Within seconds, repeatability, effective grinding, mixing and homogenization
Repeatable results
thanks to speed and energy control Alternative material
for grinding against contamination Safety sliding for
safe operation Excellent stability on laboratory benches Digital adjustment
of the parameter with a
single button Grinding chamber ventilation
10 programs can be memorized.
The startup time is programmable.
Technical Specifications
Application area : Chemistry, Agriculture, Biology, Glass / ceramics, Geology / metallurgy, Engineering / electronics, Medicine / medicine, Environment / Recycling, Building materials
Feeding material : soft, hard, brittle, fibrous
Size reduction principle : impact, friction
Grinding Bowl Capacities : ( 100 ml, 250 ml, 500 ml, 1000 ml, 2000 ml, 5000 ml, 10000 ml ) x 2
Grinding Hopper Material : Made of Tungsten Carbide, Zirconium, Agate, Aluminum Oxide, Stainless Steel, Hardened Heat Treatment Steel ( Optional )
Material inlet size < 20 mm
Outlet size < 1 μm - 20 μm
Number of grinder stations : 2
Table speed 100 - 650 min-1
Secure lock system
Grinding time setting : digital, 00:00:01 to 99:59:59
Intermittent operation : yes, in reverse direction
Operating range time : 00:00:01 - 99:59:59 Standby time : 00:00:01 - 99:59:59
Recordable SOP : 10 Drive : 3 phase induction motor
with frequency converter Electrical data : 220 V, 50 Hz, 1 phase
W x H x D closed : 640 x 480 (780) x 420 mm
Net weight ~ 90
kg
2023-01-17 03:11 PM 282